What's New With The 2022 Chevrolet Silverado Custom Trail Boss?
You don't have to like vehicles to work for a dealership, but it sure helps. Luckily I've loved cars since I was three years old, so every day is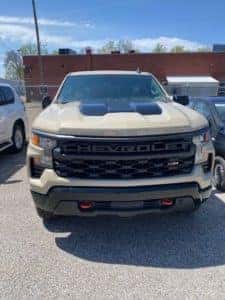 awesome when I get to interact with cool new Chevrolet products. I've worked for McClinton Chevrolet in Parkersburg, WV for over three years now, and I still get excited when a car carrier pulls up with a fresh shipment of new Chevy Cars and Trucks.
For 2022, Chevrolet updated the Silverado. It has a new front fascia, new interior elements, and an exciting new trim level, the ZR2. I was so excited to see this refreshed Silverado in person that I drove to Cleveland, OH to visit their auto show. I thought for sure the refreshed Silverado would be on display. Sadly I was wrong. They did however have the new EV Silverado. Full Disclosure: it's an exciting truck. However, it won't be available for at least another year, and I wanted to see something that was hitting showrooms this year. Many other car shows were canceled this year, so I'd have to wait until we received one at the dealership to view this epic new truck in person.
The day finally came about two weeks ago. We received our first 2022 Silverado. It was an LT trim. However, it had already been sold. As soon as it was inspected and detailed, it was off to its forever home. We then received a black LT trim…and it too was already sold. I wasn't able to explore any of these new Silverados, and I was yearning to see the changes in person.
Yesterday we finally received a new 2022 Silverado that hadn't been adopted yet. It's a Custom Trail Boss with the Duramax Diesel! The best part is the color. It's Sand Dune Metallic. A new color choice for 2022. It looks like a desert military vehicle. I finally got the chance to play with the new truck, and I was impressed.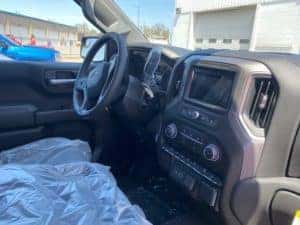 First, let's be clear, the custom Trail Boss does not have all the features of the High Country or the ZR2. The interior is mostly a carry-over from the previous year's model. So I won't be going into much detail there. However, the exterior is fresh and new as is the Duramax under the hood. For 2022 Silverado Trims LT and above, there are a lot of new interior features we'll be covering soon.
Before we get into those changes, let's talk about what sets the Trail Boss apart from the rest of the Silverado lineup. The first thing you'll notice is that 2-inch factory lift. It also includes the Z71 suspension. This gives the truck a bolder stance. This is enhanced by the Goodyear DuraTrac Mud Terrain tires and the gloss black rims. These rims look outstanding on the Sand Dune Metallic Paint. You also receive skid plates, a two-speed transfer case, and a raised hood with a black insert.
In the Custom Trail Boss, you can choose from three engines. The 2.7 Liter Turbo Four Cylinder, the 5.3 Liter V8, and the 3.0 Liter Duramax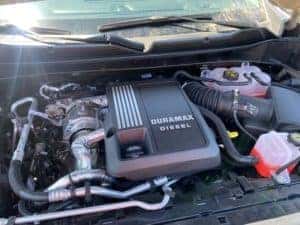 Diesel. The unit we received had the diesel installed. While the 3.0 Duramax was offered in the Silverado 1500 for a couple of years, it received a significant towing boost for 2022 thanks to some chassis changes. In years past a Silverado 1500 equipped with the Duramax could only tow up to 9,500 pounds. For 2022, the Duramax can tow up to 13,300 pounds when equipped with the Max Towing Package.
Let's talk about that styling now. The new front end looks much more menacing than the previous model. It's more aggressive than the full-size options from Ford, Ram, and Toyota. On the Custom Trail Boss, the grill features a "Chevrolet" script as opposed to the classic bowtie. This further enhances the bold new styling. Simply, the Custom Trail Boss is an awesome 0ff-Road Truck…but it's not the king of the trail anymore. That award goes to the all-new 2022 Silverado ZR2. It's epic. As soon as we get one I'll be sure to share a review. Until then, be sure to check out the Custom Trail Boss. It's a great affordable off-road truck. If you want to learn more, give us a call. 304-422-6501, and check out our new Chevy Inventory here.