What It's Like To Buy A Used Car In 2022
It's April of 2022, and I hate to sound like a corrupt MP3 file, but the used car market is wild these days. Every news outlet has reported on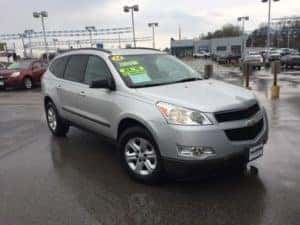 the booming price of used cars, and a simple drive by any local dealership will likely yield few options for browsing. More than two years into the COVID Pandemic the availability of used cars is still scarce. Plus, in 2022, you have so many more options than you did before. You're no longer constrained by the dealerships in your area. With all this in mind, why should you buy your next used car from McClinton Chevrolet?
I hate to be blunt, but if you're in the market for a 2018 Chevrolet Malibu, we know you can buy one at almost any dealership. While you can find a vehicle anywhere, we want you to want to buy from us. We've been in business since 1915. We couldn't stay in business this long if customers didn't come back to us. Parkersburg has a lot of used car dealers. We know we have to treat you right in order for you to come back to us. Full disclosure: a large number of the customers who bought from us last year made at least one previous purchase from us. So, why buy a used car from us.
Quality over Quantity
We see people dealerships around Parkersburg advertising their large amounts of inventory. Some say they have thousands of cars in stock. Anyone with a basic understanding of counting can take one look at their lot and realize they don't actually have thousands of cars. Perhaps they're including Hot Wheels cars, or more likely, they're counting vehicles that are located at other dealerships owned by their parent company. Chances are these vehicles are hundreds of miles away and you'll have to go on quite the journey to see them. We don't do things like that. We've been family-owned and operated since day one. While we can't claim to have thousands of used cars in stock, we can claim to have quality vehicles to sell our cars to our customers. Every used car we sell can pass West Virginia State Inspection. Even our "As-Is" vehicles live up to these high standards. In order to reach our used lot, every used vehicle we sell is refurbished through our Certified Service Department. They make sure that each used car is roadworthy and free of issues.
Million-Mile Warranty
With the exception of the vehicles, we sell "as-is" and, a few random cars here and there, our used models are sold with our 10 Year/1,000,000 Mile Limited Powertrain Warranty. It's not just for our new cars. In most cases, this means you're buying a car used with a better warranty than when it was new. The McClinton Million covers your engine, transmission, and drive system are covered. Also, if your vehicle is equipped with a turbocharger and/or a transfer case, those components are covered too. These are often the most expensive and the most vital components of your car. You deserve the peace of mind of a warranty when you buy a used car, and we're happy to provide that for our customers.
Please note, on used vehicles, the McClinton Million starts from the date the car was manufactured. So, if you purchase a used 2020 Silverado from McClinton Chevrolet, it's covered until 2030. The mileage remains 1,000,000 though.
DotTrak Theft Deterrent System
Sadly, theft is on the rise. With record inflation and parts shortages hampering every industry. Car parts are especially hard to come by now. So, your car is a target. You need to fight back. Luckily, we give you a tool to help you fight back. Every vehicle we sell is equipped with DotTrak Theft Deterrent System.
DotTraks are tiny metal octagonal discs, 0.6 millimeters in diameter. They're smaller than a grain of sand. Each DotTrak system contains 1,000 discs etched with a unique Personal Identification Number. When your purchase your new car from McClinton Chevrolet your will be assigned a VIN number associated with your DotTrak system. This will be registered nationally.
DotTraks are contained in a liquid adhesive that is identifiable under Law enforcement standard-issue UV Lights and contains synthetic DNA, for Forensic Authenticity, making the vehicle traceable by Law Enforcement.
Guaranteed Credit Approval
You deserve a reliable car. At McClinton Chevrolet, we believe you are more than just numbers on a credit score. So, our team of Finance Professionals works with dozens of local and national lenders. We will do whatever it takes to get you approved on a quality used or new vehicle. We'll also make sure you are set up with affordable payments and a reasonable down payment. Our goal is always to help our customers, not make a quick dollar.
Now that you know why you should buy a used car from us, it's time to start shopping. Click here to see our latest used inventory, and click here to apply for our No-Hot Credit Check. If you have questions, give us a call, 304-422-6501.