Trunk-Or-Treat/First Responder Appreciation Day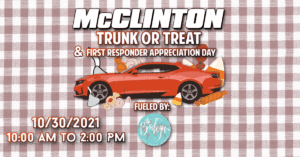 We are so excited to host this Trunk-Or-Treat with our friends from The Bodega. It's not just a trunk-or-treat though. Each vehicle will have dog/animal treats in addition to candy, and we're celebrating first responders too! Every First Responder who stops by will receive a FREE Beverage and Snack from The Bodega. There will also be prizes for First Responders throughout the day, and we'll have activities for the kids.
Date/Time:
Saturday, October 30th, 2021 from 10:00 AM to 2:00 PM.
Who's Invited?
Everyone! We want the entire community to come out, have fun, and celebrate local first responders, healthcare workers, and everyone who goes the extra mile to keep our community safe.
What's unique about this event?
In addition to a traditional Trunk-or-Treat with candy, we're also asking those participating to hand out dog/animal treats. This way individuals who have pets can come too. We just ask that you keep your dogs on a leash. Please leave aggressive dogs at home. We're also giving every first responder in attendance a FREE drink and food item from The Bodega.
Who is considered a First Responder/Healthcare Hero?
While the terms First Responder and Healthcare Hero may seem limiting, they're actually pretty broad. We recognize every Firefighter, Police Officer, EMT, Ambulance Driver, and Dispatcher as First Responder. This also includes individuals who volunteer. Healthcare Hero refers to anyone employed by a local hospital or medical facility. You're all welcome to a FREE beverage and food item.
Can I set up a trunk or donate?
Absolutely. We're asking local businesses and organizations to set up trunks for the event. Our Chevrolet lot will be clear, so there will be plenty of room for everyone. We also need donations for the first responder give-aways. If you're interested, please call Marketing Director Jonathan Corra at 304-865-6813, or email: jcorra@mcclintonautogroup.com
How can I stay up to date?
Follow the event on Facebook.