Your Overview of Tire Maintenance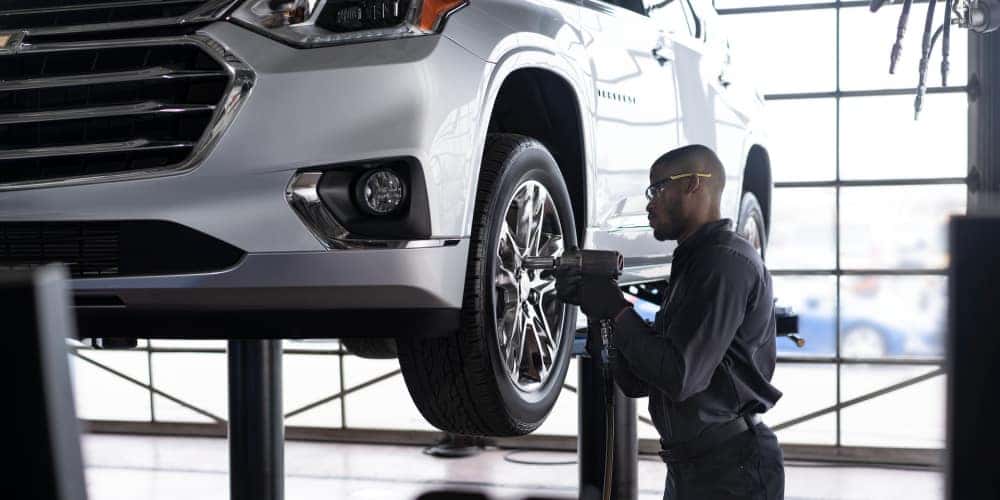 ---
The four tires of your Chevrolet car keep you moving forward in the Parkersburg area, so it's no surprise that you'll need to be diligent about maintaining them in the best condition possible. If you recently became a car owner or you want to get a refresher on how you can take care of your car's tires, you'll want to see this guide on tire maintenance from seasoned service technicians at McClinton Chevrolet. We will go over the routine services you are probably familiar with as well as ones before specific occasions and end with more tips on making the most out of your tires. Have any questions? Contact us at any time!
Basic Tire Maintenance Checklist
As long as you drive, you'll need to maintain your tires in proper working condition, so you can commute safely and smoothly on the roads. Here are some that will show you up in the recommended maintenance schedule for your Chevrolet vehicle:
Rotating Your Tires: One of the most basic car maintenance, tire rotations ensure that your wheels are wearing at the same rate, so you can change a whole set at once. On average, tires should be rotated once every six months or once every 5,000 miles to 8,000 miles. However, be sure to consult your owner's manual for a specific frequency for your model.

Checking Tire Tread:

Speaking of wear and tear, tires don't last forever even if you do all the right things. To see when your set needs to be replaced, you'll have to check the tire tread by using the penny method, a tread depth gauge, or existing tread wear bars if your car's tires have them. Regardless of which method you choose, you should replace your tires when their tread depth is measuring at 2/32 of an inch according to the U.S. Department of Transportation.

Checking Your Tire Pressure:

Similar to checking tire tread depth as you continue to hit the Ripley streets, you'll also need to make sure the tire pressure is at the right amount. Luckily, Chevrolet vehicles have a Tire Pressure Monitoring System (TPMS) that will track the pressure level and alert you if it drops below what's required. Keeping an eye on this will prevent many headaches, including flat tires, blow, low fuel efficiency, and more.

Wheel Balancing:

Wheels lose their balance over time, so you should get this service on a daily basis. The best time to have your wheels balanced is when you get your tires rotated. This way, you'll remember to get both services done and avoid your steering wheel from shaking as well as unbalanced tire wear.
Seasonal Tire Maintenance
Aside from the regular maintenance, your tires will also need extra attention for certain occasions, such as the following ones:
Wheel Alignment:

If your wheels are out of alignment, you'll experience steering issues, uneven wear and tear on your tires, and even vehicle pulling. As you can imagine this will be unsafe when driving around Marietta, so you'll need a wheel alignment immediately. During the service, the service technician will make sure that the tires are perpendicular to the road and parallel to each other.

Seasonal Tires:

In general, we get ready for a season change whether we going into the winter or the summer and that is the same for our cars! Specifically for the tires, you can expect to put on or take off winter tires for the change in weather and road conditions. If you need a new set for a season, use our

tire finder

to find the right sets.

Getting Ready for Road Trips:

There's nothing more fun than going on a road trip with the ones you love, but it can be annoying if your car runs into issues while you're on the way. It's always wise to bring your car to a local service center to get it inspected before you hit the road.
How to Make Your Tires Last
Whether you want to save money or time, you would want to make your set of tires last as long as possible, so how would you go about doing that? Just keep up with all of the basic tire maintenance services that we have gone over. It's no rocket science, really! If you don't want to remember the specific services, you can also follow the recommended maintenance schedule for your Chevrolet car closely and you should be good to go. For specific tires like ones for winter or off-roading, our team can tell you more guidance on how to take care of those!
Let the Pros Take Care of Your Tires in Parkersburg!
Do your tires need maintenance done? Schedule your appointment and head on over to our service center! Whether you have bought your car from us or not, we are the one-stop-shop that you can count on for all car things.