The McClinton Million Mile Warranty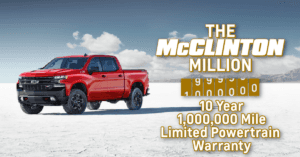 Around McClinton Chevrolet, you will often hear the phrase; "A Tradition of Trust since 1915." It's not just a slogan, it's a way of life. For our team, this phrase means peace of mind. We've been doing business in the Mid-Ohio Valley for over a century, so we know a few things about peace of mind. For us, it means stability, integrity, and reliability. These are types of traits a business can cultivate throughout the years. Purchasing a new or preowned car is a big deal. While we know it's not the biggest decision you'll ever make, it ranks near the top. If you're willing to spend your hard-earned money with us, you deserve peace of mind. That's why we developed the McClinton Million. It's the first time in 105 years we've introduced something so meaningful for our customers, and we know you're going to love it.
What is the McClinton Million?
Most new cars come with a powertrain warranty. The industry standard is 5 Years/60,000 miles. Some manufactures offer 10 Years/100,000 miles of powertrain coverage. While those are a great start, we know our customers are keeping their cars longer, and driving further. With this in mind, we developed our own in-house 10 Year/1,000,000 Mile Limited Powertrain Warranty.
Is it just a marketing gimmick?
When our team chose to pursue a longer powertrain warranty, we knew there'd be some skeptics. We do not blame anyone for being suspicious of coverage like this. However, we researched everything at length. We only wanted to pursue this type of coverage if we could make it worthy of our customers. We assure you that your vehicle is covered for 10 Years or One Million Miles.
Which cars qualify?
We've seen other dealerships advertise long-term powertrain warranties and they leave a lot to be desired. Every new Chevrolet we sell will come with The McClinton Million. Regardless if you purchase a new Silverado High Country or a Spark LS, your new Chevy will be covered for One Million Miles. In addition to every new Chevrolet, most of our preowned cars will come with the 10 Year/1,000,000 Mile Warranty.
It's expensive, right?
We don't think you should have to pay an arm and a leg for peace of mind. That's why you will not have to pay an additional charge for The McClinton Million. When you buy your new Chevrolet or preowned vehicle, the McClinton Million is included.
What's covered?
The McClinton Million is a powertrain warranty. That means the most important components of your new or preowned car is covered. This includes the engine, transmission, drive system, and when applicable, the transfer case and turbocharger are also included.
Do I get anything else with the McClinton Million?
Absolutely! In addition to the million-mile powertrain warranty, you will also receive a year of free scheduled maintenance. This includes two oil changes and two tire rotations. Roadside assistance is also included with each vehicle as well as trip interruption coverage. Our preowned cars will include a vehicle history report.
Our team is pumped to launch this new warranty. At McClinton Chevrolet, we don't want to sell you one car. We want to sell you every car you buy throughout your life. With this new warranty, you can drive without worry about major issues. When it comes time to upgrade your car, we want you to come back to us.
We know you'll have a lot of questions, so please don't hesitate to ask. Stop by or ask us a question now. Just click here.