Special Reserve

What is McClinton Chevrolet SPECIAL RESERVE?
McClinton Chevrolet Special Reserve is a new and exciting way for our customers to view our upcoming Chevrolet Vehicles that are in production. If a customer sees a vehicle on this list that they are interested in purchasing, they can place a deposit on this vehicle so that they may purchase it when it's delivered to the dealership. Watch the video below for further details and then scroll through our upcoming inventory. Every Chevrolet vehicle below is separated by model. Under each model, you will see the list of vehicles we have ordered. The list contains the trim level, the color, and the event code. Scroll to the bottom of this page to see the event code key.
If you see something you like, click on "Reserve Yours Now," or give us a call: 304-422-6501.
This list is updated every two weeks. Last Update: 11/08/2022.
EVENT CODE EXPLANATION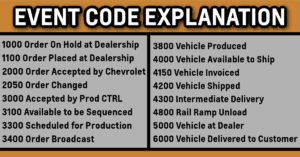 Vehicles Available For Reservation


| Order # | Current Event | Year | Model | Color | VIN |
| --- | --- | --- | --- | --- | --- |
| CCTF9D | 3400 | 2023 | Silverado Crew Cab 1LT | Black | |
| CDCBZ1 | 3400 | 2023 | Silverado Crew Cab 1LT | Black | |

| Order # | Current Event | Year | Model | Color | VIN |
| --- | --- | --- | --- | --- | --- |
| CDGG08 | 3000 | 2023 | Traverse 3LT | Radiant Red Tintcoat | |
| CCDNX8 | 3300 | 2023 | Traverse 1LT | Radiant Red Tintcoat | |
| CBWVC2 | 3300 | 2023 | Traverse 1LT | Sterling Gray Metallic | |
| BZPZ4K | 3400 | 2023 | Traverse 2LZ | Iridescent Peral Tricoat | |
| BZPZ4M | 3300 | 2023 | Traverse 2LZ | Radiant Red Tintcoat | |
| CCCZ49 | 3300 | 2023 | Traverse 1LT | Northsky Blue Metallic | |


| Order # | Current Event | Year | Model | Color | VIN |
| --- | --- | --- | --- | --- | --- |
| CDCBZ1 | 3000 | 2023 | Equinox 1LZ | Sterling Gray Metallic | |
| BZDDB4 | 3400 | 2023 | Equinox 1LS | Sterling Gray Metallic | |
| BZDDB5 | 3400 | 2023 | Equinox 1LS | Blue Glow Metallic | |
| BZDDB6 | 3400 | 2023 | Equinox 1RS | Sterling Gray Metallic | |
| CDWF7T | 3000 | 2023 | Equinox 1RS | Mosaic Black Metallic | |
| CDGGS5 | 3000 | 2023 | Equinox 1RS | Radiant Red Tintcoat | |
| CFFQPH | 3000 | 2023 | Equinox 1RS | Radiant Red Tintcoat | |
| CDMTTB | 3000 | 2023 | Equinox 1LS | Blue Glow Metallic | |
| CDMTTC | 3000 | 2023 | Equinox 1LS | Blue Glow Metallic | |
| CDMTTD | 3000 | 2023 | Equinox 1LS | Mosaic Black Metallic | |
| CDMTTF | 3000 | 2023 | Equinox 1LS | Blue Glow Metallic | |
| CDMTTG | 3000 | 2023 | Equinox 1LS | Sterling Gray Metallic | |
| CDMT1T | 3000 | 2023 | Equinox 1RS | Summit White | |


| | | | | | |
| --- | --- | --- | --- | --- | --- |
| Order # | Current Event | Year | Model | Color | VIN |


| | | | | | |
| --- | --- | --- | --- | --- | --- |
| Order # | Current Event | Year | Model | Color | VIN |


| Order # | Current Event | Year | Model | Color | VIN |
| --- | --- | --- | --- | --- | --- |
| CK10706 | 3000 | 2023 | Tahoe 1LS | Radiant Red Tintcoat | |


| Order # | Current Event | Year | Model | Color | VIN |
| --- | --- | --- | --- | --- | --- |
| CBMM1Z | 3400 | 2023 | Camaro Convertible 1LZ | Sharkskin Metallic | |


| Order # | Current Event | Year | Model | Color | VIN |
| --- | --- | --- | --- | --- | --- |
| CDNHV9 | 3000 | 2022 | Colorado 4WT | Bright Blue Metallic | |
| CDNJ9P | 3400 | 2022 | Colorado 2WT | Summit White | |
| CDNK57 | 3000 | 2022 | Colorado 47Z | Bright Blue Metallic | |
| CBMMD5 | 3400 | 2022 | Colorado 4LT | Bright Blue Metallic | |
| CDNMJQ | 3000 | 2022 | Colorado 2LT | Bright Blue Metallic | |
| CDRMW1 | 3000 | 2022 | Colorado 2WT | Black | |
| CDCM66 | 3400 | 2022 | Colorado 4ZR | Satin Steel Metallic | |
| CDSS2M | 3000 | 2022 | Colorado 2Z7 | Summit Whote | |
| CCSZZH | 3000 | 2022 | Colorado 4WT | Summit White | |


| | | | | | |
| --- | --- | --- | --- | --- | --- |
| Order # | Current Event | Year | Model | Color | VIN |


| Order # | Current Event | Year | Model | Color | VIN |
| --- | --- | --- | --- | --- | --- |
| BTMBSB | 3550 | 2023 | Trailblazer 1LT | Mosaic Black Metallic | |
| BTMF6X | 3550 | 2023 | Trailblazer 1LT | Crimson Metallic | |
| BVJGK0 | 3550 | 2023 | Trailblazer 1SA | Blue Glow Metallic | |


| Order # | Current Event | Year | Model | Color | VIN |
| --- | --- | --- | --- | --- | --- |
| CDGHKV | 3400 | 2023 | Blazer 2LT | Blue Glow Metallic | |


| Order # | Current Event | Year | Model | Color | VIN |
| --- | --- | --- | --- | --- | --- |
| BZFNN3 | 3550 | 2022 | Trax 1LT | *GUN* | |
| BZFN6N | 3550 | 2022 | Trax 1LT | Silver Ice Metallic | |


| Order # | Current Event | Year | Model | Color | VIN |
| --- | --- | --- | --- | --- | --- |
| CDWDZ8 | 3000 | 2023 | Malibu 1SP | Summit White | |
| CDMR8G | 3400 | 2023 | Malibu 2LT | Dark Ash Metallic | |
| CFDX5G | 3400 | 2023 | Malibu 2LT | Radiant Red Tintcoat | |