Oh Deer! Tips To Prepare You and Your Vehicle For Deer Season
It's November in West Virginia. That means that it's almost time for Thanksgiving, snow is just around the corner, and the West Virginia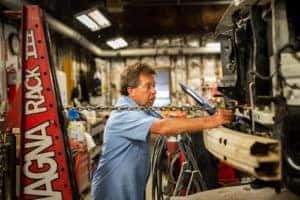 Mountaineers are likely to play in some bowl game sponsored by a company that won't be around in three years. It also means that it's deer season in the mountain state. Of course the deer season I'm thinking of does not involve camouflage or crossbows. Instead, November is the time when a lot of people in West Virginia and Ohio will have an accident involving their car and a member of Bambi's extended family. West Virginia is the deer impact capital of the United States. If you live here, there's a good chance your vehicle will impact a deer at least once in your life.
As a dealership with an i-Car cold body shop, November is one of our busiest times of the year. We've been in this business for over 100 years. We've learned a few things along the way, and we want to share that wisdom with you. Here are some tips to help you prepare for deer season.
Make sure you have rental coverage on your vehicle. 
Having proper rental coverage on your vehicle is paramount. This is especially true if your vehicle will take a long time to repair. Currently,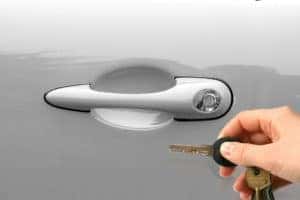 there is a nationwide shortage of parts for vehicles. Sometimes it can take weeks or months to get parts in stock. This is especially true for newer vehicles. If your car just went into production, it may take even longer for replacement parts to arrive. These delays mean you'll likely be without your car for longer than expected. If the damage to the vehicle means that it's not drivable, you may be stuck without proper rental coverage on your car. Call your insurance agent or provider and make sure your rental coverage is adequate.
Make sure your vehicle covers collisions with deer and other animals. 
Insurance coverage can be tricky. If you borrowed money to purchase your vehicle, there is a good chance that the lending institution will require you to have full coverage insurance. Generally, full coverage will protect your vehicle against a deer impact. But what is full coverage insurance? Most insurance agents will combine your collision coverage with comprehensive coverage as a part of full coverage. Collision is obviously for impacts with another vehicle. Comprehensive coverage often refers to things impacting your vehicle that aren't a car. In this case, a deer impact is usually covered by your comprehensive insurance. If you have liability only or state minimum coverage, your car likely won't be covered if you hit a deer.
A quick side note about insurance. In a former life, I worked for a Personal Injury Attorney. I always make sure my vehicle has full coverage. Even when I had a 2005 Chevy Malibu that was completely paid off, I still had coverage far above the state minimum. Currently, I have coverage for rental, uninsured/underinsured, property damage, rental, medical payments, and more. In fact, after writing the section on rental coverage, I increased my rental coverage by an additional $500. It will only cost me an additional $2.33 per six months.
Be aware of when deer are likely to be on the road. 
For the most part, here in West Virginia, every season is deer season. In other words, there is a good chance you'll have an impact with a deer throughout the year. This is due in large part to the rural nature of our state. However, our dealership is located in the middle of Parkersburg, and we often find deer in our parking lot. So in West Virginia, there is nowhere to hide from these animals. They will get you.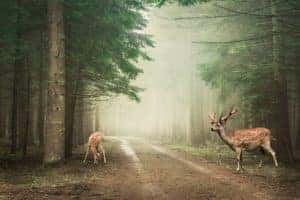 According to Wikipedia, Pennsylvania is the worst state for deer collisions. As we all know, Wikipedia is often wrong. So it's no surprise that they weren't accurate here. According to State Farm, West Virginia is number one, Montana is number two, and the Commonwealth of Pennsylvania is number three. You can trust what State Farm says because that Jake fella is so wholesome with his red sweater and khakis. If you live in West Virginia, or you're traveling through The Mountain State, you have a 1 in 37 chance of impacting a deer this year. Ohio borders us, and there you have a 1 in 102 chance of impacting a deer. The safest state in the nation as far as deer impacts are concerned is Hawaii. There you have a 1 in 649 chance of hitting a deer.  
As we've learned, the state you're in plays a big part in your chances of hitting a deer. However, the time of year can play a part too. Generally, fall is when you're more likely to have an accident involving a deer. It turns out that fall is when deer mate, so they are more prevalent from October through November.
Fall also means shorter days. I leave work most days at 6:30 PM. From April through September I leave when the sun is still shining brightly. After Daylight Savings Ends, I leave work after the sun has set for more than an hour. This means my evening commute changes drastically depending on the time of year. We are far less likely to see deer alongside the road when it's dark as compared to the daylight. Make sure your headlights are ready for fall driving. I just purchased a new 2021 Mitsubishi Outlander Sport with LED headlights. They make a huge difference. Make sure your headlights aren't foggy and be sure to replace a blown bulb as soon as possible.
Will you hit a deer this year? State Farm claims there were nearly Two Million Claims filed for deer collisions from June 2019 to July 2020. So, the odds may not be in your favor. If you do find yourself hitting a deer, be sure to trust the McClinton Auto Group Body Shop. For over a century we've kept the Mid-Ohio Valley on the road. Our body shop Is highly rated, and we're I-Car Gold Certified. We also have great relationships with many insurance companies, and we're a preferred body shop for State Farm. 
If you are involved in an accident this fall, trust your car to our highly skilled team. Call 304-422-6501 to schedule your estimate today. Drive Safe.