McClinton X WVMS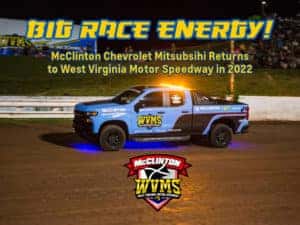 McClinton Chevrolet Carries Even Bigger WVMS Partnership In 2022!
(Mineral Wells, WV) – West Virginia Motor Speedway continues its exclusive rights partnership with McClinton Chevrolet Mitsubishi as the two nationally recognized entities build upon the track's vision. McClinton Chevrolet of Parkersburg, WV has inked an agreement to become the Official "McClinton Million Midway" Partner of WVMS, as well as, the Official Pace Truck Partner for the Worlds Fastest Dirt Track again in 2022.
The renewed transaction further advances the two premier brands in Wood County and the Mid-Ohio Valley area. McClinton Chevrolet which is home to one of the oldest Chevrolet franchises will once again be on display at the state-of-the-art West Virginia Motor Speedway this season.
In saying, fans will be able to interact with the dealership closer to the action via the new "McClinton Million Midway" packed with merchandise, food and general display area for a greater guest experience. Race fans will also see McClinton Chevrolet Mitsubishi represented throughout the facility including large billboard signage in turns #1 & 2.
Furthermore, McClinton Chevrolet is excited to return the famous West Virginia Motor Speedway 'Official Pace Truck' to the track in 2022. The truck, a Chevrolet Silverado Z71 Trail Boss will attractively lead the pack prior to the racing action this season. "Even among a national vehicle shortage, McClinton Chevrolet has continued to provide us with a pace truck. It's just one of many ways they've showcased their commitment to the growth of WVMS" stated promoter, Cody Watson.
"I can't thank Wyn, Ginny, Jon, and everyone at McClinton Chevrolet enough for their support of the West Virginia Motor Speedway. With partners like McClinton, [Chevrolet], the future is bright at the track because they share our vision and passion for success" added Watson. "I highly encourage anyone looking for a new or used vehicle to visit McClinton Chevrolet Mitsubishi for a great deal and excellent customer service" concluded Watson.
About McClinton CHEVROLET
McClinton Chevrolet was founded in 1915 and is in its fourth generation of ownership by the McClinton Family. Believed to be one of the oldest Chevrolet franchises, McClinton Chevrolet continues the tradition of offering reliable automobiles to the Mid-Ohio Valley. As a customer, you can expect to be treated with fairness and respect. All sixty McClinton Chevrolet employees believe you should have an enjoyable experience while visiting their New or Used Car Departments, Body Shop, Parts Department, or Service Center. For more info visit them online at www.mcclintonchevy.com or visit them in person at 1325 Seventh Street, Parkersburg, WV 26101.
About McClinton CHEVY SERVICE CENTER
Your vehicle deserves expert care from the people who know it better than anyone else. McClinton Chevrolet Service Center employs factory-trained technicians who use state-of-the-art technology and equipment to help you keep your vehicle running like new. Trust your vehicle to the Certified Service experts at McClinton.
About THE McCLINTON MILLION
Around McClinton Chevrolet, you will often hear the phrase; "A Tradition of Trust since 1915." It's not just a slogan, it's a way of life. For the McClinton team, this phrase means peace of mind. At McClinton, it means stability, integrity, and reliability. These are types of traits a business can cultivate throughout the years. Purchasing a new or preowned car is a big deal. While they know it's not the biggest decision you'll ever make, it ranks near the top. If you're willing to spend your hard-earned money at McClinton, you deserve peace of mind. The McClinton Million is a 10 Year/1,000,000 Mile Powertrain Warranty standard on every new Chevrolet they sell, every new Mitsubishi, and most preowned cars. It's the first time in 105 years they've introduced something so meaningful to their customers, and we know you're going to love it.
About West Virginia Motor Speedway
Since being crafted marvelously in 1984 the West Virginia Motor Speedway has played host to some of the sport's biggest events and brightest stars. Boasting one of the most beautiful settings and seats in dirt track racing while nestled attractively into the wild and wonderful mountains of small-town Mineral Wells, West Virginia the 5/8 mile terraced hillside sits conveniently adjacent to popular Interstate 77 for effortless access. Home to the 'Worlds Fastest Dirt Track' ™, WVMS, will blow you away with its incredible racing action and thrill-seeking speed.
The West Virginia Motor Speedway, a 5/8 mile clay oval is located in Mineral Wells, WV take exit 170 off I-77, just south of Parkersburg, WV. For more information on 'The Motorsports Capital of Cool' view them on the web at www.WVMotorSpeedway.com. You can also email track offices at [email protected] or call # 304-771-5051. Like us on Facebook at West Virginia Motor Speedway.
– End of Release –