"McClinton Difference" Makes Online Buying a Breeze for the Mid-Ohio Valley.
FOR IMMEDIATE RELEASE
After 100+ Years, McClinton Auto Group Launches McClinton Difference and Transforms Vehicle-Buying Experience for Greater West Virginia and Mid-Atlantic Market
A year after the fourth-generation family takes the helm, McClinton Chevrolet and McClinton Mitsubishi provide online vehicle purchase experience, McClinton Million-Mile Warranty, and new scholarship for automotive technicians.
PARKERSBURG, WV – (June 22, 2021) McClinton Auto Group, a fourth-generation, family-owned and operated automotive dealership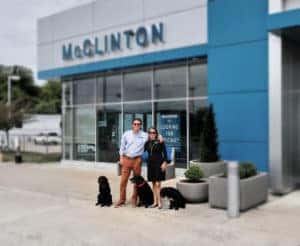 company with a Chevrolet and a Mitsubishi franchise, is pleased to announce the launch of the McClinton Difference, a new innovative program designed to exceed today's vehicle buying and ownership experience. Through the program, the 106-year-old dealership group has transformed over the past year to deliver an online vehicle buying experience and offer the McClinton Million-Mile Warranty. Virginia "Ginny" Bowden, the great-granddaughter of founder J.S. McClinton Sr., took over as the Dealer Principal in 2020, while her husband, Charles "Wyn" Wyndol Bowden, became the General Manager. Ginny's father, J.S. McClinton III, remains the CEO after celebrating 45 years with the company.
"With over 20+ years of combined experience in the automotive, aeronautics, and marketing industries, Wyn and I have applied our learnings to build upon the success my family has had in being a leading family-owned business in our community," said Ginny Bowden, whose great grandfather started the dealership in 1915. "We're excited to say since we took over as McClinton leaders, we've transformed our dealership into the modern age during the challenging Covid-19 pandemic. In addition, we're proud that we have continued to support local organizations and provide jobs and careers in our local Mid-Ohio Valley community for over a century."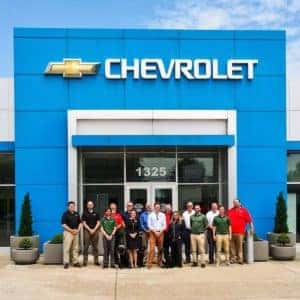 Over the past year, McClinton Auto Group has provided new easy-to-use technology through their website to enable consumers the ability to do more of the vehicle-buying process online, including at-home test drives and virtual trade-in evaluations. This has become even more important as more consumers do their car shopping and research online during all hours of the day and night. Since the launch, over 3,000 customers have researched vehicles through the dealership's platform. McClinton leverages its social media channels to share information about the dealership and answer questions online. Dealership staff are always available through whatever communication methods the customer chooses, including website chat, Facebook, phone, email, or text. Consumers can easily see what the value of their trade-in is through an online form. McClinton has always paid top dollar for trade-ins and always will. McClinton's certified technicians work hard to recondition pre-owned cars to get them lot ready and are proud of its pre-owned inventory. McClinton Chevrolet's often-heard phrase, "A tradition of trust since 1915," is not just a slogan. It's a way of life.
As part of the McClinton Difference, customers also gain peace of mind in their car-buying experience through the McClinton Million-Mile Warranty. The program is a 10-year, 1-million-mile limited powertrain warranty. The complimentary warranty provides new and most pre-owned car customers the stability, integrity, and reliability they deserve with their new purchase. The McClinton Million-Mile powertrain warranty means the vehicle's essential components are covered, from the engine to the drive system. McClinton also provides a year of complimentary scheduled maintenance, including two oil changes and tire rotations.
McClinton Auto Group recently established the Roger Brown Tool Scholarship to reward new body shop employees with an annual $1,000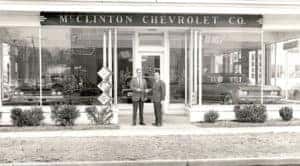 grant to purchase tools. The scholarship commemorates loyal, hard-working body shop employee Roger Brown, who retired in February 2020 after 45 years of dedicated work with McClinton Chevrolet. Scholarship recipients are selected based on dedication, work ethic, and consistent monthly body shop hours for 12 consecutive months.
McClinton Auto Group is a proud supporter of the community, working with many local businesses and foundations to contribute to the greater good. McClinton hosts an annual classic car show to collect food and monetary donations for the Children's Home Society of West Virginia. The 9th annual McClinton Car Show will be 9 a.m. to 2 p.m. Saturday, June 26th at McClinton Chevrolet. In addition, McClinton hosts an annual fundraising event to thank local first responders and has helped Toys for Tots for over ten years. The dealership also supports local sports teams, including sponsoring the Worthington Little League baseball team for more than 20 years.
About McClinton Auto Group
McClinton Auto Group was founded in 1915 with McClinton Chevrolet, believed to be one of the oldest Chevrolet franchises. Family owned and operated for four generations; McClinton added a Mitsubishi franchise in 1989. The dealership group has continued its tradition of offering reliable automobiles and first-rate customer service to the Mid-Ohio Valley for over a century. More information on the company is available at www.mcclintonchevy.com and www.mcclintonmitsubishi.com.
Media Contact:
Jonathan E. Corra, MA
(304) 865-6813