McClinton Car Show Information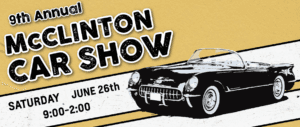 We are excited to announce the return of our annual car show. Started in 2011, the McClinton Car Show is an annual tradition serving car enthusiasts and the greater community. The 8th Annual Event was held on June 14th, 2019. Great weather and a renewed enthusiasm created the most well-attended Car Show in our dealership's history. We were all set to bring the show back again in June of 2020, but the Global Pandemic caused by the Coronavirus forced us to cancel those plans.
So, our 9th annual event will be taking place in 2021 instead of 2020. Our entire team is excited about the return. A year off allowed us to reimagine the event and make changes to the structure. For instance, the event was traditionally scheduled for a Friday evening. This year we are changing that to Saturday morning. This will mimic a Cars and Coffee atmosphere. In changing the structure, we wanted to put a greater focus on the cars and their owners. This new format will allow for a more relaxed setting and allow participants to casually interact with their fellow enthusiasts.
This year, the first 100 entrants will receive a free event T-Shirt and a Free beverage from The Bodega. We are pumped to have The Bodega join us for the first time. They are a local Café and Marketplace specializing in gourmet coffee and sandwiches. They will be on hand to make us wonderful beverages and snacks. If you're not one of the first 100 entrants, you will be allowed to purchase beverages and snacks from their unique on-site trailer.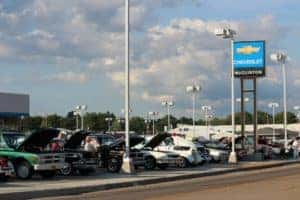 The car show has never been just about the vehicles. Each event serves as a fundraiser for The Children's Home Society of West Virginia. Entrants are asked to donate Non-Perishable Food Items or Money to this great organization. For 125 years, the Children's Home Society has helped local children in need. Their mission is simple, every year, they offer child welfare, behavioral health, social casework, and advocacy services, including foster care and adoption, to 15,000+ children and families from 13 primary locations statewide. They aim to help build a future where, ultimately, their services are no longer needed: where every child has a safe and permanent home, a family to love them, and opportunities to thrive.
In addition to The Children's Home Society, our friends from The United Way Alliance of the Mid-Ohio Valley will be on hand to help promote their Color Me United 5K Family Fun Run. McClinton Chevrolet Mitsubishi is the Title Sponsor for this year's Fun Run. After a year off in 2020, the Fun Run is back. Be sure to pick up some literature about the run, and all the great programs the United Way offers this wonderful community.
In addition to our spectacular community partners, Dusty the Pace Truck will be on hand for photo opportunities. Dusty is the Official Pace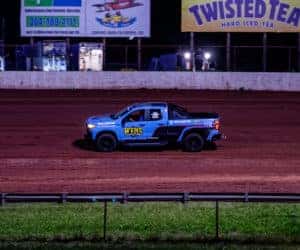 Truck of West Virginia Motor Speedway. He will be there promoting the upcoming Mark Balzano Memorial Race on July 4th.
Our traditional 50/50 Drawing will return for this year's car show. The 50/50 drawing is another great way to raise money for The Children's Home Society. The 50/50 drawing will take place at noon. You must be present to win.
This event could not take place without the help of our friends from The Rollin' Oldies Car Club. The Rollin Oldies Car Club is a nonprofit organization dedicated to furthering interest in and the preservation of cars and trucks of the past. They are also committed to the principle of giving to the community. They are very active in promoting and producing car shows and cruise-ins that net sizable contributions to various charitable causes. Their club was formed in 1976 and we are now in our 34th year. They are based in Parkersburg, West Virginia.
When: Saturday, June 26th, 2021 from 9:00 AM to 2:00 PM.
Where: McClinton Chevrolet. 1325 7th Street. Parkersburg, WV 26101.
This event is free to attend. All people and vehicles are welcome.
Contact Information: Jonathan Corra, Marketing Director. 304-865-6813. jcorra@mcclintonautogroup.com
Facebook Event: https://www.facebook.com/events/350870416560236?acontext=%7B%22event_action_history%22%3A[%7B%22surface%22%3A%22page%22%7D]%7D 
McClinton Chevrolet: https://www.mcclintonchevy.com/
Children's Home Society: https://www.childhswv.org/
United Way Alliance of the Mid-Ohio Valley: https://www.uwamov.com/
The Bodega: https://www.facebook.com/thebodega514
West Virginia Motor Speedway: https://www.wvmotorspeedway.com/
Follow Dusty The Pace Truck on Instagram: Click Here.