DotTrak Theft Deterrent System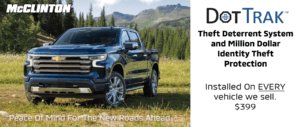 Since 1915 we've established relationships with thousands of customers. We know a vehicle is one of the most important decisions you'll make in your life. For some of our customers, it's the most expensive item they'll ever purchase. Regardless if you're spending $10,000 on your first car or, 100,000 on your dream ride, you need to protect your investment. Thieves will stop at nothing to steal your vehicle. Now you can fight back with the DotTrak Theft Deterrent System. It's available now on EVERY vehicle we sell.
Did you know over 700,000 cars are stolen every year? That equals about 1 every 26 seconds. In total, these losses equal over 5 billion dollars!
What is DotTrak?
DotTraks are tiny metal octagonal discs, 0.6 millimeters in diameter. They're smaller than a grain of sand. Each DotTrak system contains 1,000 discs etched with a unique Personal Identification Number. When your purchase your new car from McClinton Chevrolet your will be assigned a VIN number associated with your DotTrak system. This will be registered nationally.
DotTraks are contained in a liquid adhesive that is identifiable under Law enforcement standard-issue UV Lights and contains synthetic DNA, for Forensic Authenticity, making the vehicle traceable by Law Enforcement.
DotTrak Effectiveness.
Microdot technology has been used around the world to deter theft and identity assets to owners for decades.
The DotTrak System includes the permanent marking of various parts of the vehicle making it extremely difficult for the thief to steal your car or sell off induvial parts.
Each DotTrak Personal Identification Number is registered to the vehicle and the vehicle owner. The number is uploaded with the vehicle identification number to the National Insurance Crime Bureau (NCIB) database making it searchable.
Additional Benefit.
The DotTrak Theft Deterrent System comes with a limited warranty. During the term of the Limited Warranty if your vehicle is stolen and not recovered within 30 days, follow the instructions in the Limited Warranty to process a claim. Please see a member of our sales team for more details.
Theft Deterrent
Once your DotTrak system is installed, your new vehicle will be equipped with DotTrak Warning Labels on both the driver's side door window and the passenger side door window. This warns thieves that your vehicle is protected.
Need another reason? We'll give you 1,000,000!
When you purchase a new or preowned vehicle from Chevrolet, we'll include a Million Dollar Identify Theft Protection Plan with DotTrak.
This service includes
Internet Monitoring Service
Public/Private Database Address Monitoring
Black Market Surveillance
Lost Wallet Service
Fully Managed, Family Coverage Identity Theft Restoration
$1,000,000 Fraud Expense Reimbursement
The cost of DotTrak is $399
Call us today to learn more about the DotTrak Theft Deterrent System. 304-422-6501