Chip Happens: How Chevrolet is Delivering Vehicles While Combating Supply Chain Issues.
The past two years for the Global Automotive industry have been a little on the wild side. For decades our Chevrolet dealership would hold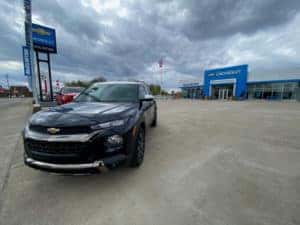 nearly one hundred new Chevrolet products. There were trucks cars and SUVs for as far as the eye could see. Now we're lucky to have ten vehicles on the lot. However, because our team was quick to pivot to the changing automotive landscape, we're now selling more cars than ever. When we noticed our customers were willing to purchase cars before they arrived, we quickly implemented Special Reserve. This new tool allows our customers to see which vehicles we have on order from Chevrolet, and it allows them to purchase the vehicle they want before it's built. This new tool is great, but supply issues are still impacting major automotive brands, and it will likely be an issue for the foreseeable future. General Motors is among the largest manufacturers in the world, so the chip shortage is impacting them immensely. The good news is that GM isn't resting on their laurels and they developed a plan to get vehicles to customers quicker.
Before we dive into what General Motors is doing to combat this issue, let's look at why chips are causing issues. Back in the day cars had little or no silicon chips. Cars were also less complicated back then. The first car I drove was a 1989 Buick Regal. This car born the same year as Taylor Swift didn't have OnStar, Traction Control, Bluetooth, or even ABS. So, the number of chips needed for my Regal was only a fraction of what a new Suburban High Country needs.
Some people think that a new car only has one chip to control all of the electronics. Sadly that's not the case. Most new cars have between two and three dozen microchips. (Consumer Reports) They control everything from your ABS to your heated seats. Some of these systems are more important than others. You can drive a car without heated seats, but you shouldn't drive a car without working airbags. Then again, this January morning produced a temperature of -2 degrees here in Parkersburg, WV, so heated seats are a necessity for me. Kidding aside, many luxury features on new vehicles aren't necessary for safe operation. Realizing this, GM found a temporary solution to the chip shortage.
GM is combating this problem by sending us new Chevrolet Vehicles without the chips for non-essential features. How does this work? If the vehicle is equipped with an option like heated seats they'll send it to us without the chip for this feature. Then, the chips will be installed here at McClinton Chevrolet when the chips become available.  For instance, we received a nice 2022 Chevrolet Silverado RST last week. It's missing the chips for the heated seats, heated steering wheel, and rear park assist. The mechanisms for these features are included. If you were to rip open the front seat on the Silverado, you'd see the coils that heat the seat. On the steering wheel, you can see the button for the heated steering wheel. When you press it, nothing happens. Once again, GM is only doing this for non-essential features. You won't get a new Traverse without ABS or Airbags.
You're probably thinking "I don't want to pay full price for features I have to wait for!" Well, GM understands that. So you're getting a discount for each delayed feature. This is reflected on the window sticker of your new Chevrolet. You might also be afraid that you'll buy this new Chevy and then months down the road you won't receive your chip install free of charge. No worries there either. When you buy your new Chevrolet from McClinton Auto Group, you receive a form stating that the chips will be installed when available. It's signed by our manager. We also put notes in your file stating that this will be performed free of charge at a later date. It's almost like a recall. Customers are never forced to pay for recall work.
While supply issues have been a major hurdle for most businesses over the past couple of years, it's nice to see that General Motors has an effective temporary solution. Since 1915 we've been a proud Chevrolet dealership. We've experienced a lot of obstacles over the past century, and we know we'll emerge from this supply disruption with more knowledge and skills for the future.
McClinton Chevrolet: Peace of Mind for the New Roads Ahead.