McClinton Car Show Information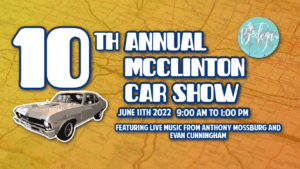 We are proud to announce the date of our 10th Annual Car Show. It's taking place Saturday, June 11th from 9:00 AM to 1:00 PM.
There are some changes, but a lot will remain the same.
Like last year we've teamed up with our friends from
The Bodega
. They are helping us plan and promote the car show again this year. They will also be on hand to serve us delicious treats and fantastic beverages.
Our beneficiary remains the
Children's Home Society of WV – Parkersburg Site
. Just like in previous years, the entry fee for the show is a donation to the Children's Home Society. This can be by way of a monetary donation or canned food items for their pantry. They'll be on hand again to discuss their various programs and initiatives.
The first 100 Registrants will receive a FREE event t-shirt and food/drink item from The Bodega.
The big change this year…for the first time ever…is the addition of live music! AND WE ARE DOING IT LARGE.
Two great local artists have agreed to perform for us on the 11th.
First, we have talented up-and-coming musician
Evan Cunningham Music
. Evan is a student at Marietta College. He's been playing music since he was 9, and he's been performing all over the Mid-Ohio Valley this year.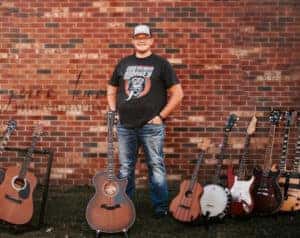 In addition to Evan, we are proud to announce the addition of
Anthony Mossburg
to this year's Car Show. You likely already know who he is, but here's a quick refresher. Anthony is a local artist who has taken part in several national tours. He has three independent albums and such smash hits as "The Way I Am." "Whiskey and Wine," and "My Drug." He's a musician who isn't afraid to bend the rules of genres, and we can't wait to see him perform live.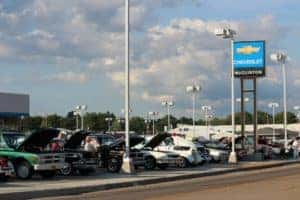 The car show has never been just about the vehicles. Each event serves as a fundraiser for The Children's Home Society of West Virginia. Entrants are asked to donate Non-Perishable Food Items or Money to this great organization. For 125 years, the Children's Home Society has helped local children in need. Their mission is simple, every year, they offer child welfare, behavioral health, social casework, and advocacy services, including foster care and adoption, to 15,000+ children and families from 13 primary locations statewide. They aim to help build a future where, ultimately, their services are no longer needed: where every child has a safe and permanent home, a family to love them, and opportunities to thrive.
In addition to our spectacular community partners, Dusty the Pace Truck will be on hand for photo opportunities. Dusty is the Official Pace Truck of West Virginia Motor Speedway. He will be there promoting the upcoming Renegade Rebellion Music Festival taking place on July 9th. 
Our traditional 50/50 Drawing will return for this year's car show. The 50/50 drawing is another great way to raise money for The Children's Home Society. The 50/50 drawing will take place at noon. You must be present to win.
When: Saturday, June 11th, 2021 from 9:00 AM to 1:00 PM.
Where: McClinton Chevrolet. 1325 7th Street. Parkersburg, WV 26101.
This event is free to attend. All people are welcome.
Contact Information: Jonathan Corra, Marketing Director. 304-865-6813. [email protected]
Facebook Event: HERE
McClinton Chevrolet: https://www.mcclintonchevy.com/
Children's Home Society: https://www.childhswv.org/
The Bodega: https://www.facebook.com/thebodega514
West Virginia Motor Speedway: https://www.wvmotorspeedway.com/
Follow Dusty The Pace Truck on Instagram: Click Here.