"Alexa, Start My Chevrolet:" Exploring Digital Assistants in your New Chevy.
Yesterday I wrote a blog about all the cool features of the 2021 Chevrolet Equinox. That vehicle, like many new Chevys, is full of convenient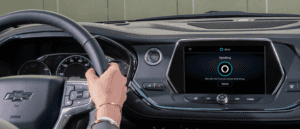 tech features. One item that stood above the others was the Amazon Alexa integration. With this feature, you can control all your home's integrated smart devices from your Chevrolet. That is so fresh! You can ask Alexa to turn on your walkway lights, set your thermostat, and even add items to your grocery list. With Alexa Key, you can even have packages delivered to your car in select markets.
I have not told you the best part, though. We are currently experiencing a nasty winter here in Parkersburg, WV. The winter air is especially rough this year. Going out into the sad, dark winter to start your car is a recipe for a bad day. A remote start can solve that problem and put you in a good mood early. While most Chevrolet vehicles have a remote start from the factory already, I am not always near my keys. My key fob is always right by the door. I am rarely in this part of my house. With Amazon Alexa integration on your new Chevrolet, you can start your car just by saying "Alexa, start my Chevrolet." You can do this via your phone or by speaking near your Alexa speaker. So, if you're getting ready for work in your bedroom, or upscale walk-in closet, you don't have to venture into your foyer or mudroom to start your car. It's that convenient. There's only one problem. I am team Google. So, I guess I'm out of luck.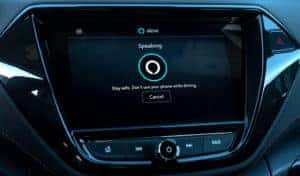 I was devastated to learn about the Alexa integration. Just as I was sobbing uncontrollably and rushing to the internet to switch all my connected devices over to Amazon, I did a quick Google search to see if there was anything I could do. I am so glad I did this search. I learned that Chevrolet integrates the Google Assistant into their vehicles too! What a relief. Through my research on the Chevrolet website, I found that the process is much the same as the Alexa integration. It should be noted that the Google Assistant is slightly limited when compared to Amazon Alexa. The biggest difference is that Google does not have a big retail unit like Amazon does. In other words, Google does not have a "Key Feature" like Amazon. So, you can't use your car like a parcel locker like Amazon can. No worries though, if you are a Google user and still use Amazon for shipping, you can still use the Amazon Key.
With Google Assistant you can start your Chevy just by using your voice. You can also use Google Assistant to lock and unlock your vehicle. We love when people own Multiple Chevrolets. So, if you have more than one connected Chevy set up with your Google Assistant, it will ask you which vehicle when you ask for help.
It's important to note that you must have an account set up with Google to use these features. To use the myChevrolet Actions, you'll need an eligible, properly equipped model year 2011 or newer Chevrolet vehicle and an active paid service plan.
We'd love to show you all these smart features in person. Stop by McClinton Chevrolet today, or give us a call. Click here to view our latest Chevrolet inventory.