5 Reasons Why The Chevrolet Equinox Should Be Your Next Ride
The Chevrolet Equinox is an interesting vehicle. Did you know that it's often Chevrolet's 2nd best selling vehicle after the Silverado? 2019 was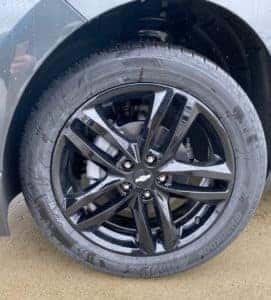 the best year for Equinox sales with nearly 350,000 units sold. Not only is it one of Chevrolet's best-selling vehicles, but it's also one of the most popular compact crossovers on sale in the United States. You probably want to know why the Equinox is so popular. Let's find out today. Here are 5 reasons why the Chevy Equinox needs to be your next ride  
1. Not Its First Rodeo
The Equinox was first introduced in 2005 and has seen three generations. Since the crossover has been on the market for 15 years people have some trust in the nameplate. With over 3,000,000 Equinox units sold since 2005, the vehicle has become the standard for compact crossovers. However, the Equinox started life as a mid-size crossover. In 2018 the Equinox switched classes. It did so by getting smaller and bigger at the same time.
2. It's just right.
For 2018 the Equinox lost exterior inches while gaining interior inches. So, while the Equinox is smaller overall than it used to be, it's bigger where it counts. Overall, the third generation Equinox is about 4 inches shorter than the second generation, but it has 5 cubic feet more interior volume. The Equinox already had generous interior volume, but that was made even better for 2018 and beyond. This generation of the Equinox is also about 400 pounds lighter than the previous generation. Because of this new size, the Equinox is bigger than the Ford Escape, The Honda CR-V, the Subaru Forester, and the Kia Sportage.
The Equinox is popular because it fits the needs of so many people. It's small enough to park in your garage and navigate a drive-through with ease. The vehicle is also big enough to carry up to 5 adults in comfort. The Equinox has more rear headroom than the Jeep Cherokee and more legroom than the Toyota RAV4, the Ford Escape, and the Volkswagen Tiguan. You can even get heated rear seats in the Equinox.
With nearly 30 cubic feet of cargo space behind the rear seats, the Equinox has the space for people and their luggage. That's enough room for 5 24 Inch roller bags behind the back seats. Fold the rear seats down and you're looking at a staggering 63.9 Cubic Feet of cargo room. When you're ready to take your next road trip, the Equinox is ready for everyone.
3. It's efficient.
I will be the first to admit that previous Chevy Equinox models were a bit thirsty. The 2nd generation had an optional V6 engine that only managed 17 MPG in the city. Yikes! Chevrolet has made the new Equinox much more efficient. For 2021 you're going to see up to 26 MPG in the city and up to 31 MPG on the highway. The Equinox maintains abundant horsepower with this efficient engine too. For 2021, the 1.5 Liter Turbocharged Engine produces 170 horsepower and 203-pound feet of torque. This crossover can tow up to 1,500 pounds when properly equipped.
4. It's safe.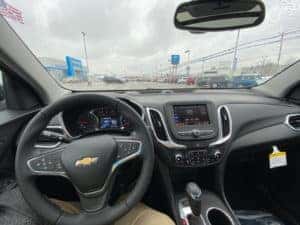 For 2021, the Chevrolet Equinox is an IIHS Top Safety Pick. It received scores of "Good" in every Crashworthy test they administer. The Equinox also had high test scores in several of the IIHS Accident Avoidance tests. But it's easy to put scores up on a page and say good job. What does all this safety talk mean in real-world applications? Let's take a look at some of the standard and optional safety features available on the Equinox.
First, there's Forward Collision Alert with Automatic Emergency Braking. This is standard on the Equinox. It will warn you when it detects a potential front-end collision with a vehicle, you're following so you can take action. During the daytime, at speeds under 50 MPH, the brakes will engage to help you avoid or lessen the impact of a collision.

Next, we have Front Pedestrian Braking. This feature is also standard. It works much like Forward Collision Alert, but its goal is to detect pedestrians instead of other vehicles.

Another convenient safety feature is Lane Keep Assist with Lane Departure Warning. This one is also standard. Uses a brief, gentle steering wheel turn to alert you when you may be unintentionally drifting out of detected lane lines, so you can steer to stay safely in your lane. If needed, you may receive additional Lane Departure Warning alerts

This next standard safety feature is unique but also necessary in our increasingly distracted world. Following Distance Indicator. It Displays the following gap time in seconds between your vehicle and a detected vehicle you are following. This can help you decide if you're following much too closely.

Safety is paramount at night. That's why the 2021 Chevrolet Equinox comes standard with Intellibeam Auto High Beam Assist. Simply, this safety feature will turn your high beam headlights on and off according to surrounding traffic conditions.

Chevrolet has been paving the path of child safety for years. That's why the Equinox, and every new Chevrolet with a back seat, has a rear seat reminder standard. It's just another way Chevrolet is looking out for you and your family.
All of those amazing safety features are standard. There are also a few optional safety features that you may choose for your Equinox. These features include rear park assist, HD Surround Vision, Adaptive Cruise Control, and Rear Cross-Traffic Alert.
5. It's Tech Savvy.
The Chevy Equinox has a lot of safety tech to prevent accidents and to keep passengers safe. The tech features don't stop at safety though. The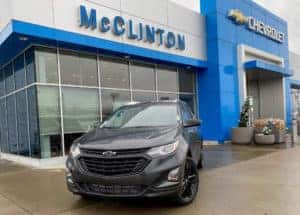 Equinox has everything you're looking for to make your commute a joy. We know your phone is an important part of your life. That's why the Equinox has standard Apple CarPlay and Android Auto. With these features, your favorite apps integrate into the infotainment screen. You can easily access your maps or Spotify account while keeping your eyes on the road. The Amazon integration doesn't stop with Alexa. With Amazon Key, you can have packages delivered safely to your car. Just download the Key by Amazon mobile app to your compatible smartphone, complete the setup and select free in-car delivery to have your Amazon packages delivered directly to your properly equipped vehicle in select cities.
Android Auto and Apple CarPlay are cool, but they've been around for a little while. One of the coolest new features in the Equinox is the integration of Amazon Alex. With this feature, you can connect your Equinox to your home's Alexa and take your digital personal assistant on the road. With Alexa, you can stream music, add to your shopping list, and even turn on your connected house lights just by using your voice. What's more, you can even start your Equinox by using your home's Alexa speaker. That way your vehicle is warmed up and ready to hit the road.
The Equinox Is a Chevrolet and that means it will have the latest version of OnStar. This means that the Equinox has stolen vehicle assistance, emergency service, automatic crash response, crisis assist, turn-by-turn navigation, and roadside assistance.
Now we know why the Equinox is so popular. Next, we need to get you in here for a test drive. Just click here to check out our current inventory. Using Shop Click Drive you can complete your entire purchase online. Everything from estimating payments to evaluating your trade is just a few clicks away.
Since 1915 we've been a proud Chevrolet Dealership. We're happy to help you every step of the way. Many of our customers have bought multiple vehicles from us. Find out why so many customers come back to McClinton Chevrolet. Call 304-422-6501.